During negotiations for a real estate deal, the buyer and seller must agree to use a particular escrow company. The escrow company represents neither the buyer nor the seller. The
Escrow Company
i
s a third party that ensures the fulfillment of terms for a real estate transaction for all sides.

After negotiations, when the buyer and seller have agreed to all terms of the deal, the buyer's realtor will "open escrow" by submitting the buyer's initial earnest deposit to the escrow company and instructing them to begin the closing process. The typical Escrow (transaction) is about 50 days from opening to close. Below is an outline of the what to expect during the process.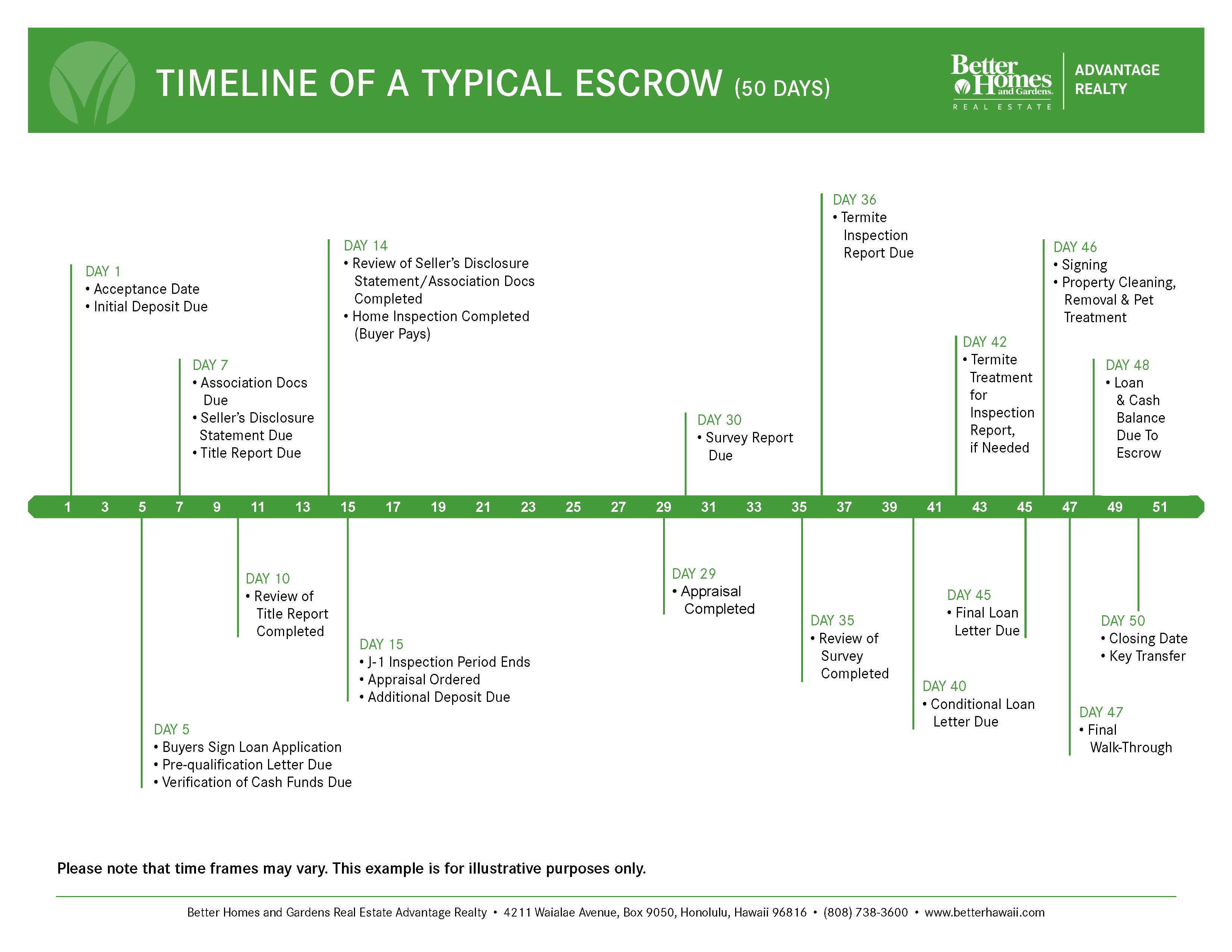 Day 1
-Acceptance Date
-Initial Deposit Due from Buyer
-Home Inspection Period Begins
Day 5
-Buyers Sign Loan Application
-Prequalification Letter Due from Buyer
-Verification of Cash Funds Due from Buyer

Day 7
-Association Documents due
-Seller's Disclosure Statement due
-Title report due

Day 10
-Review of Title Report Completed

Day 14
-Review of Seller's Disclosure statement completed
-Review of Association Documents completed

Day 15
-J-1 Home Inspection Period Ends
-Appraisal Ordered
-Additional Deposit Due from Buyer

Day 29
-Appraisal Completed

Day 30
-Survey Report Due

Day 35
-Review of Survey Completed

Day 36
-Termite Inspection Report Due

Day 40
-Conditional Loan Commitment Letter Due from Buyer

Day 42
-Termite Treatment as recommended from inspection report (as needed)

Day 45
-Final Loan Letter Due

Day 46
-Signing
-Property Cleaning, item removal, & pet treatment if applicable

Day 47
Final Walk-through

Day 48
-Loan & Cash balance due to Escrow

Day 50
-Recordation & Offical Closing
-Key Transfer
This timeline an approximation of what to expect. Since terms are negotiable, every transaction will vary. It is highly recommended that you consult with your realtor, loan officer, and or escrow officer for the time frames in your transaction.

For a one on one consultation with a realtor, register below.